Sr. Data Analyst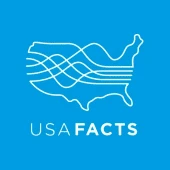 USAFacts
IT, Data Science
United States
Posted on Saturday, November 11, 2023
The Organization
At USAFacts, we believe facts deserve to be heard. We are on a mission to provide a comprehensive and unbiased look at our country by the numbers. Democracy thrives on serious, reasoned, and informed debate. And we're here for it.
Founded and funded by Steve Ballmer, former CEO of Microsoft, USAFacts answers questions around government spending and outcomes. While these are basic questions, finding the answers is hard. But it's also pretty exciting. We pull together data from thousands of jurisdictions to normalize, contextualize, and visualize these metrics so the data is approachable and understandable.
Every day, we learn something about our country, how to make complex data understandable, and how to make the American people interested in the numbers. We're a collaborative group and are always learning from each other, too. The team is mission driven, with no political agenda nor commercial incentive; we do this work purely as a public service.
Oh, and to top it off? USAFacts was named to Fast Company's List of the World's Most Innovative Companies for 2023! Learn more about us at usafacts.org and linkedin.com/company/usafacts.
We'd love for you to bring your talents and your curiosity to come make a difference!
The Opportunity
At USAFacts, we are committed to providing unbiased and transparent data about the United States. We are seeking a Senior Data Analyst who is experienced in conducting analysis of and communicating findings from government data to join our mission-driven research team.
In this role, you will conduct data analysis, develop insightful written content and data visualizations, respond to questions from policymakers through data exploration and analysis, and support the organization's efforts to improve government data. The individual in this role contributes to the delivery of data-driven insights for the organization's major reports and ensures that their work is aligned with audience needs and expectations. They play a key role in maintaining the trustworthiness and transparency of the organization's work.
This role does not include direct people management. It is a collaborative, individual contributor role.
Key Priorities & Responsibilities
Develop trustworthy, unbiased, and contextual data-driven insights by independently conducting analysis of government data; surfacing interesting findings; employing data best practices; and similar responsibilities.
Contribute to the delivery of research team products that are usable, understandable, and aligned with audience needs and expectations by independently executing user research; employing search engine optimization tools; applying learnings from the latest audience and user experience research; and similar responsibilities..
Work to establish USAFacts as a destination for civically engaged people interested in data and information about the U.S. and its government by translating data-driven insights into visualizations and written formats such as long-form reports, memos, and web pages; identifying and communicating opportunities for innovative or experimental content forms; and similar responsibilities.
Enhance the trustworthiness and transparency of USAFacts analysis content by providing feedback and support to other analysts; developing and maintaining organization-wide data analysis standards and support for their use; providing reviews of content; and similar responsibilities.
Support the organization's public relations efforts by developing materials for organization's leaders; conducting fact-checking of public-facing documents when required; creating presentations; and similar responsibilities.
Qualifications:
Skills:
Understanding of basic statistical and econometric concepts and ability to use appropriate research methods
Excellent writing and research skills
Ability to analyze datasets and identify interesting findings
Attention to detail
Strong Excel skills
Ability to work with others collaboratively and effectively
Self-starter who can work in a fast-moving and evolving environment
Familiarity working with government data
Experience:
At least five (5) years of experience in policy, research, or a social science field, including internships or undergraduate research assistantships.
Education:
Bachelor's degree in public policy, statistics, economics or other social science fields
Preferred Experience, Skills, Education:
Skills, in addition to the above: Familiarity with data analysis tools and software such as R, Python, or Stata.
Education: Minor in statistics or economics, or 3-6 courses in statistics, econometrics, or data analytics.
Compensation
The starting salary range for the Senior Data Analyst role is $108,600 to $135,800, based on aptitude and experience. Over time, the employee in this role may earn up to $163,000 per year with demonstrated skill in the role and context, progress and performance against goals, and increased experience.
Featured Benefits & Perks
Medical, dental, and vision insurance with employee and dependent premiums entirely paid for by Ballmer Group
3 weeks of paid vacation annually
11 paid holidays, plus paid days off for the weekdays between Christmas and New Year
80 hours of paid sick leave annually
401(k) with 6% employer contribution
2:1 Ballmer Family Giving Match for charitable contributions
Professional development reimbursement up to $2,000 per year
Employer-paid life insurance of 3x salary to $1,000,000 ($750k guarantee issue)
Fertility & Family Building reimbursement to $40,000 (lifetime max)
Healthcare and Dependent Care Flexible Spending Account (FSA) options
Parking or transportation (Orca card) up to $250 monthly
Cash stipend of $300/month (for cell phone, wellness expenses, etc.)
Location & Hybrid Work
The position is based in Bellevue, Washington.
Our organization practices intentional hybrid work​. All USAFacts employees are expected to work on-site Tuesdays, Wednesdays, and Thursdays during overlapping core hours of 10:00 am to 3:00 pm. Mondays and Fridays remain flexible work-from-home or office workdays.
Ballmer Group/USAFacts is an equal opportunity employer and dedicated to building an inclusive workforce where diversity is valued. Individuals seeking employment at Ballmer Group are considered without regards to race, color, religion, national origin, age, sex, marital status, ancestry, physical or mental disability, veteran status, gender identity, or sexual orientation.