Lead UX Designer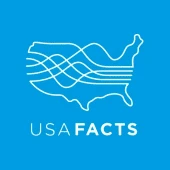 USAFacts
Design
United States
Posted on Thursday, November 2, 2023
At USAFacts, we believe facts deserve to be heard. We are on a mission to provide a comprehensive and unbiased look at our country by the numbers. Democracy thrives on serious, reasoned, and informed debate. And we're here for it.
Founded and funded by Steve Ballmer, former CEO of Microsoft, USAFacts answers questions around government spending and outcomes. While these are basic questions, finding the answers is hard. But it's also pretty exciting. We pull together data from thousands of jurisdictions to normalize, contextualize, and visualize these metrics so the data is approachable and understandable.
Every day, we learn something about our country, how to make complex data understandable, and how to make the American people interested in the numbers. We're a collaborative group and are always learning from each other, too. The team is mission driven, with no political agenda nor commercial incentive; we do this work purely as a public service.
Oh, and to top it off? USAFacts was named to Fast Company's List of the World's Most Innovative Companies for 2023! Learn more about us at usafacts.org and linkedin.com/company/usafacts.
We'd love for you to bring your talents and your curiosity to come make a difference!
The Opportunity
At USAFacts, we are committed to providing unbiased and transparent data about the United States. We are seeking a Lead UX Designer who is both a visionary and a pragmatist to join our mission-driven product development team.
In this role, you will be deeply embedded with a cross-functional team of product managers, data visualization and information design specialists, and application engineers. You will also work alongside our brand, content, and marketing teams to ensure a cohesive experience for everyone who encounters USAFacts hungry for nonpartisan data about our country. We have large ambitions but are small enough that it is easy for everyone to talk to each other and collaborate seamlessly.
Rooted deeply in human-centered design, this role collaborates closely with the head of product to bring our mission and vision to life for users on usafacts.org. With end-to-end ownership of the design lifecycle, you and your team will craft everything from rapid prototypes and production-ready designs, aiding swift movement through the build-measure-learn loop. Conducting audience and user research will also be part of the role, so you can champion the voice of the user in all stages of the design lifecycle.
This role does include direct people management of a UX designer, who you will hire.
Key Priorities & Responsibilities
· Strategic Product Visioning: Work closely with the head of product to conceptualize and strategize product direction, ensuring alignment with overall organizational goals. Translate big-picture visions into actionable plans.
· End-to-End Design Ownership: Oversee the entire product design lifecycle, from ideation to scaling, concepting to execution. Empower us to move quicky through the build-measure-learn loop via design,
· Prototyping and Testing at Scale: Develop rapid prototyping methods for validating product concepts at different stages of the product life cycle. Implement and oversee advanced usability testing methodologies tailored for both early-stage products and scaled products.
· Stakeholder Collaboration: Create tailwinds for your engineering, content, product, and marketing collaborators. Gain deep understanding of our marketing and technological challenges, apply UX to solve them, and ensure engineering is equipped to bring your vision to life.
· Mentorship and Team Direction: Mentor and guide junior members of the team, ensuring rigorous prioritization, design quality, and pushing the boundaries of traditional UX practices.
· Data-Driven Decision Making: Use quantitative and qualitative data to inform design choices, ensuring that UX strategy is contributing to core organizational outcomes.
· Make Our Data Product Approachable: Design intuitive and user-friendly interfaces for our data-driven products.
· Scalability and System Thinking: Ensure that design solutions address immediate product needs and are scalable for future iterations and/or seamless integration into the broader USAFacts ecosystem (content marketing, owned social, earned media, etc.)
· Resource Allocation and Prioritization: Manage and prioritize design resources effectively, aligning with product roadmap and organizational goals. Propose agency involvement and guide agency work when appropriate.
· Human-Centered Design: Uphold and champion a deep focus on users, ensuring that all designs are rooted in empathy and understanding of the USAFacts user (current and future). Where there are gaps in our understanding, you advocate for and execute user research and bringing on agency partners as needed.
· Advocate for UX Best Practices: Keep abreast of the latest UX trends, tools, and technologies, ensuring the organization stays ahead of the curve. Maintain sharp focus on best practices for web applications and data-centered products. Drive organizational awareness and education on the value of design.
· Champion Web Accessibility: Ensure all designs meet the requirements for web accessibility.
· Influence without Direct Control: Work with cross-functional teams, aligning them with design thinking approaches, fostering a culture of collaboration, and ensuring user needs are at the forefront of collective efforts.
Qualifications
Required Experience, Skills, Education:
•Bachelor's or master's degree in UX Design, Interaction Design, Graphic Design, HCI (Human-Computer Interaction), or a related field. Equivalent experience considered in lieu of degree.
•Minimum of 7-10 years of proven experience in UX design, with at least 2-3 years in a leadership or principal role.
•A robust portfolio showcasing end-to-end UX design projects. You portfolio should include examples of new product innovations and how you got there.
•Proficiency in UX design tools such as Sketch, Figma, Adobe XD, as well as prototyping tools.
•Demonstrated experience embedding with engineering teams to translate design vision into production-ready designs for technical teams.
•Experience integrating quantitative and qualitative data into design processes and a keen understanding of organic search optimization in UX.
•Hands-on experience in prototyping and usability testing, with a knowledge of what testing methodologies are best suited to different product stages.
•Knowledge of human-centered design methodologies and a strong track record in translating deep user understanding into design choices.
•Ability to collaborate effectively with cross-functional teams, especially with product managers, data visualization and application engineers, content creators, and marketers.
•Exceptional communication skills to articulate design choices and strategies to various stakeholders.
•Familiarity with web accessibility standards (e.g., WCAG) and experience in designing products that meet these standards.
•Demonstrated experience in mentoring and guiding junior designers and promoting a culture of learning and growth.
•Commitment to staying updated with the latest UX trends, tools, and technologies, and embracing a growth mindset to always improve your design craft.
•Commitment to the USAFacts mission through your love of data, understanding of American government, and ability to be non-partisan.
Preferred Experience, Skills, Education:
•Familiarity with data visualization tools
•Experience with the intersection of AI and design.
•Some fluency with government data or similar large variable datasets.
•Data-centered consumer product and/or civic tech experience.
•Experience in both new product innovation and product scaling, ideally at either a startup or an innovation function within a larger organization.
Compensation & Benefits
Compensation
The starting salary range for the Lead UX Designer role is $143,800 to $179,800, based on aptitude and experience. Over time, the employee in this role may earn up to $215,800 per year with demonstrated skill in the role and context, progress and performance against goals, and increased experience.
Featured Benefits & Perks
• Medical, dental, and vision insurance with employee and dependent premiums entirely paid for by Ballmer Group
• 3 weeks of paid vacation annually
• 11 paid holidays, plus paid days off for the weekdays between Christmas and New Year
• 80 hours of paid sick leave annually
• 401(k) with 6% employer contribution
• 2:1 Ballmer Family Giving Match for charitable contributions
• Professional development reimbursement up to $2,000 per year
• Employer-paid life insurance of 3x salary to $1,000,000 ($750k guarantee issue)
• Fertility & Family Building reimbursement to $40,000 (lifetime max)
• Healthcare and Dependent Care Flexible Spending Account (FSA) options
• Parking or transportation (Orca card) up to $250 monthly
• Cash stipend of $300/month (for cell phone, wellness expenses, etc.)
Location & Hybrid Work
The position is based in Bellevue, Washington.
Our organization practices intentional hybrid work. All USAFacts employees are expected to work on-site Tuesdays, Wednesdays, and Thursdays during overlapping core hours of 10:00 am to 3:00 pm. Mondays and Fridays remain flexible work-from-home or office workdays.