Lead Product Manager, Data Platform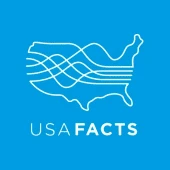 USAFacts
Product
United States
Posted on Thursday, November 2, 2023
At USAFacts, we believe facts deserve to be heard. We are on a mission to provide a comprehensive and unbiased look at our country by the numbers. Democracy thrives on serious, reasoned, and informed debate. And we're here for it.
Founded and funded by Steve Ballmer, former CEO of Microsoft, USAFacts answers questions around government spending and outcomes. While these are basic questions, finding the answers is hard. But it's also pretty exciting. We pull together data from thousands of jurisdictions to normalize, contextualize, and visualize these metrics so the data is approachable and understandable.
Every day, we learn something about our country, how to make complex data understandable, and how to make the American people interested in the numbers. We're a collaborative group and are always learning from each other, too. The team is mission driven, with no political agenda nor commercial incentive; we do this work purely as a public service.
Oh, and to top it off? USAFacts was named to Fast Company's List of the World's Most Innovative Companies for 2023! Learn more about us at usafacts.org and linkedin.com/company/usafacts.
We'd love for you to bring your talents and your curiosity to come make a difference!
The Opportunity
Join the heart of innovation at USAFacts, where our data platform stands as a pivotal strategic asset to provide unbiased and transparent data about the United States. We are seeking a Lead Product Manager, Data Platform to join our dynamic cross-functional team of data and application engineers, technical analysts, data visualization specialists, and product managers. We have large ambitions but are small enough that it is easy for everyone to talk to each other and collaborate seamlessly.
In this role, you will understand the goals and use cases of technical and non-technical customers of our data platform to create a strategic vision for how our data platform delivers end-user value. You will translate that strategy into prioritized roadmaps for data engineering. Your roadmap will empower front-end applications, content creators, researchers, and external partners to access clean, standardized government data.
Additionally, you will oversee the technical data analyst team, a group of subject matter experts in government datasets accountable to acquiring and readying the data for ingestion into the data platform. You will transform the data needs of our core product, content, and research teams into a prioritized list of datasets, and create a system of repeatable processes to increase the velocity with which we get data ready for ingestion.
By driving both the data acquisition process and the data platform's roadmap, you will have a comprehensive perspective on the supply and demand aspects of our data product.
This role does include direct people management of a team of 3-4 direct reports.
Key Priorities & Responsibilities
Strategic Leadership
· Develop and execute a comprehensive strategy for the data platform aligned with organization goals and serving both internal and external customers.
· Work closely with internal teams such as content, research, and core experience to understand their needs and ensure the platform meets those needs effectively.
Data Acquisition, Metadata Augmentation, and Quality
· Manage the data acquisition team, including setting priorities and ensuring a consistent supply of relevant, high-quality government data for the data platform team to ingest.
· Develop and oversee our metadata and taxonomy strategy so that our raw data can be transformed into strategic assets for USAFacts.
· Establish, oversee, and empower rigorous data quality standards and processes, including managing third-party resources, to ensure the reliability and accuracy of data on the platform.
Product Roadmapping and Execution
· Develop and manage a clear, coherent roadmap for data platform product development aligned with organizational goals and user needs.
· Detail requirements to the product development teams across the tech stack, empowering high quality and on time delivery of our highest strategic priorities.
Collaboration and Communication
· Foster a collaborative environment for all data platform stakeholders, enable clear communication, and create alignment on goals and priorities.
· Regularly interface with internal and technical customers to gather feedback and understand their evolving requirements.
· Influence without direct control and able to align cross-functional teams behind your roadmap.
Technical Architecture Fluency
· Maintain a deep understanding of the technical architecture, ensuring it supports the evolving needs of the data platform and the organization.
· Work with technical teams to identify and implement necessary enhancements and optimizations.
Qualifications
Required Experience, Skills, Education:
· Bachelor's degree in Computer Science, Human Computer Interaction, Information Systems, Business, Data Science, or related field. Equivalent experience considered in lieu of degree.
· 8+ years of product management experience in a data-centered product organization
· Technical proficiency:
o Fluency in technical architecture related to data platforms
o Experience with data quality standards and processes
o Familiarity with BI tools
o Ability to communicate requirements to technical audiences
· Ability to develop and implement comprehensive strategies for data platforms.
· Experience creating clear and coherent product roadmaps aligned with organizational goals.
· Track record of effectively managing, mentoring, and motivating a team of 3-5 direct reports.
· Demonstrated ability to guide and influence cross-functional teams, often without direct reporting lines.
· A customer-centric mentality, capable of understanding and prioritizing stakeholder and customer needs.
· Commitment to continual learning, staying updated with industry trends, tools, and technologies.
· Commitment to the USAFacts mission through your love of data, understanding of American government, and ability to be non-partisan
Preferred Experience, Skills, Education:
· Advanced degree (MBA or MS) is a plus. Equivalent experience considered in lieu of degree.
· Experience with AI applications within data platforms.
· Some fluency with government data and/or experience in civic tech.
Compensation & Benefits
Compensation
The starting salary range for the Lead Product Manager, Data Platform role is $143,000 to $179,800, based on aptitude and experience. Over time, the employee in this role may earn up to $215,800 per year with demonstrated skill in the role and context, progress and performance against goals, and increased experience.
Featured Benefits & Perks
· Medical, dental, and vision insurance with employee and dependent premiums entirely paid for by Ballmer Group
· 3 weeks of paid vacation annually
· 11 paid holidays, plus paid days off for the weekdays between Christmas and New Year
· 80 hours of paid sick leave annually
· 401(k) with 6% employer contribution
· 2:1 Ballmer Family Giving Match for charitable contributions
· Professional development reimbursement up to $2,000 per year
· Employer-paid life insurance of 3x salary to $1,000,000 ($750k guarantee issue)
· Fertility & Family Building reimbursement to $40,000 (lifetime max)
· Healthcare and Dependent Care Flexible Spending Account (FSA) options
· Parking or transportation (Orca card) up to $250 monthly
· Cash stipend of $300/month (for cell phone, wellness expenses, etc.)
Location & Hybrid Work
The position is based in Bellevue, Washington.
Our organization practices intentional hybrid work​. All USAFacts employees are expected to work on-site Tuesdays, Wednesdays, and Thursdays during overlapping core hours of 10:00 am to 3:00 pm. Mondays and Fridays remain flexible work-from-home or office workdays.