Technical Project Manager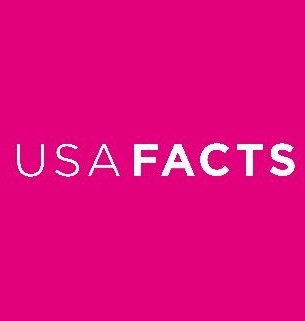 USAFacts
IT, Operations
Bellevue, WA, USA
Posted on Sunday, May 21, 2023
Technical Project Manager – USAFacts
Bellevue, WA
The Organization:
At USAFacts, we believe facts deserve to be heard. We are on a mission to provide a comprehensive
and unbiased look at our country by the numbers. Democracy thrives on serious, reasoned, and
informed debate and we are here for it. Founded and funded by Steve Ballmer, former CEO of Microsoft, USAFacts answers questions around government spending and outcomes. While these are basic questions, finding the answers is hard. But it is also pretty exciting. We pull together data from thousands of jurisdictions, normalize, contextualize, and visualize these metrics so that it is approachable and understandable. We learn something about our country every day, how to make complex data understandable, and how to make the American people interested in the numbers. We're a very collaborative group and are always learning from each other, too. The team is mission-driven. We have no political agenda nor commercial incentive; we do this work purely as a public service.
Oh, and to top it off? USAFacts was named #14 on Fast Company's 2020 Best Workplaces for Innovators.
We'd love for you to bring your talents, your curiosity and come make a difference!
The Opportunity:
The Technical Project Manager is responsible for delivering engineering initiatives and partnering with other leaders to ensure the success of organization priorities and projects. This role focuses on planning and management of projects, removing blockers, providing regular updates to stakeholders, and facilitating cross-team communication.
You'll work with a diverse team of engineers, data analysts, product managers, and marketing specialists to deliver meaningful, high-quality products to the USAFacts audience and our internal teams. This role is the glue that helps to hold the team together and the accelerant that makes your colleagues able to work better, faster, and with less stress.
Key Priorities and Responsibilities
Key responsibilities include:
• Managing dependencies and resolving blockers so that engineering can successfully execute
to scope and within the defined timeline
• Ensuring all work is documented and accurately scoped, either by writing requirements
documents, user stories, and bugs or by reviewing those submitted by others on the team
• Identifying and escalating areas for process improvement, including handoffs between
teams, QA, and release planning
• Streamlining and facilitating conversations between Product and Engineering for successful
collaboration
• Working with Engineering managers, Principal PM, and Product team members to establish
and hold to timelines
• Tracking and reporting on project process, lead post-mortems, and advocate for
improvements based on lessons learned
• Facilitating Engineering team meetings, including standup and refinements
• Managing and maintaining the engineering team's Jira projects
Qualifications
Minimum Requirements:
• Familiarity with both Waterfall and Agile Methodologies, bonus if experience with the Product
Development Cycle
• Familiarity with Project management tooling, particularly Jira and Confluence
• Familiarity with software or data engineering
• Strong written and verbal communication skills
• Ability to be both self-directed and collaborative; strong sense of individual accountability
• Demonstrated experience managing projects through completion
Compensation:
The pay range for the Technical Project Manager role is $102,000 to $158,000. We aim to hire new
employees between $104,000 to $130,000 allowing future compensation growth within the rangebased on aptitude in the role and context, and progress and performance against goals over time.
Featured Benefits & Perks:
-Medical, dental, and vision insurance with employee and dependent premiums entirely paid for by
Ballmer Group.
-3 weeks per year of paid vacation annually.
-11 paid holidays, plus paid days off for the weekdays between Christmas and New Year.
-80 hours of paid sick leave annually.
-401(k) with 6% employer contribution.
-2:1 Ballmer Family Giving Match for charitable contributions.
-Professional development reimbursement up to $2,000 per year.
-$300 monthly incidentals stipend.
-Tax-Free Flexible Spending Account (FSA) and Dependent Care (DCFSA) plans offered.
-Parking and transportation (Orca card) up to $250 monthly.
More details on USAFacts can be found here:
https://usafacts.org/
https://www.linkedin.com/company/usafacts/
Ballmer Group and USAFacts are an equal opportunity employer and dedicated to building an inclusive workforce where diversity is valued. Individuals seeking employment at Ballmer Group are considered without regards to race, color, religion, national origin, age, sex, marital status, ancestry, physical or mental disability, veteran status, gender identity, or sexual orientations.