Student Success Coach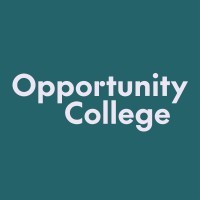 Opportunity College
Remote
Posted on Saturday, September 2, 2023
About Opportunity College
In partnership with public high schools, career pathway programs, and innovative universities, Opportunity College is designing affordable, career-connected, student-centered postsecondary programs to enhance upward mobility for first-generation students from lower-income backgrounds. Our programs seek to provide recent high school graduates with a guided stackable credentials pathway to both college degrees and high-paying, in-demand jobs. We use an active online synchronous learning approach with holistic student support coaching to maximize sense of belonging and outcomes for our students.
Position Summary
The Student Success Coach provides holistic coaching to help students maximize their learning, development, and ability to secure employment. Coaches work with students aged 18-24 in our Career Jumpstart Fellowship who seek to break into the tech industry. Coaches develop and enhance relationships with students, faculty, and other partners to support student enrollment, persistence, and success as students position themselves to be strong candidates for employment opportunities.
Position Type
This is a remote, hourly, seasonal role, up to 40 hours per week, from September 21 - December 16, 2023. This coach will be supporting a cohort that meets evenings and some Saturdays. The coach will need to be available to lead sessions on Tuesday evenings from 5:30 - 7:00 pm ET and one Saturday each month. The coach must also be available during business hours on specific days to support students, meet with team members, and perform other administrative duties.
Responsibilities
Support Students to Secure Employment

Support students on each step of their employment journey, as they:

Explore career pathways and educational options that fit their goals and interests
Identify open roles they are qualified for (you will also play a role making connections to partner employers/job boards)
Compile and submit strong job applications tailored to the specific job opportunity
Make connections at potential employers and prepare for interviews
Negotiate their offers and ensure a strong start to the job

Take on operational, systems‐building, research, and marketing projects that improve our ability to support students to secure employment




Coach Students to Thrive in the Career Jumpstart Fellowship

Cohort Management: Build a positive and supportive cohort culture via weekly facilitated small‐group sessions and online platforms (including Slack, LinkedIn, email)
1:1 Coaching: Meet with students virtually to discuss progress in the program, career goals, and barriers that may impede their ability to complete the program.
Monitor students' progress and, as needed:

Proactively initiate, lead and resolve conversations and challenges that include attendance, assignment submission, time management, stress management, study strategies, and more to support students to complete the program and launch a strong job search
Work with the Student Success team to connect students to wraparound service providers (i.e., for mental health, housing resources)

Meet with the Student Success team to discuss cohort progress and develop personalized, student‐driven plans that help address learning needs and maximize student engagement




Assess, Track and Manage Outcomes

Monitor Student Support email by responding and triggering actions based on inbound queries
Capture student data via Canvas, Airtable, Google Forms, and other platforms
Use data and learnings to improve the student experience
Values, Skills & Experiences
Foremost, you must share the OC team's values and commitment to working together to improve student growth and achievement through phenomenal instruction grounded in culturally responsive teaching.
Additionally, for this position, we're looking for candidates with the following skills and experience:
3+ years of professional experience working with first-generation and/or low-income students to promote student success (e.g. a program specialist, career and technical education coach, academic counselor, or student affairs professional)

Demonstrated experience building safe and trusting connections with 16–24-year-old students, adult learners, and students with learning differences while also:

providing academic guidance, motivational interviewing, or strengths-based coaching

holding them to high expectations with empathy and support

counseling individuals who are facing a variety of life challenges

Strong interpersonal skills including clear and effective communication skills, intercultural competence, and the ability to foster teamwork and collaborative relationships

Strong intrapersonal skills including conscientiousness, professionalism, growth mindset, and the ability to problem solve, learn quickly, adapt flexibility, and work with multiple stakeholders in a fast-paced environment

Expertise at making content accessible, relevant, and actionable in an online learning environment

Solid ability to collect, analyze, and report student data on a variety of software platforms (e.g, Canvas) and to use data to develop strategies to improve outcomes
Opportunity College is committed to diversity, equity, and inclusion in our community, culture, and practices. We recognize that underrepresented groups such as women and BIPOC may be less likely to apply to a role if they don't meet 100% of the listed qualifications. We are committed to continual growth and we encourage you to apply if you meet a majority of the qualifications and this role is aligned with your career trajectory and interests.
Compensation
The compensation for this position is $25-30 per hour. Opportunity College is incubating as a program of Array Education, a 501c3 nonprofit organization. Note: we are a new program and not yet an accredited institution of higher education. The employee will be eligible for all benefits available to employees of Array Education.
Array Education provides equal employment opportunity for all applicants and employees.