Program Officer - Gender, Racial and Ethnic Justice - International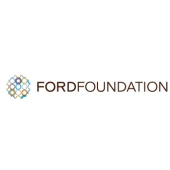 Ford Foundation
Operations
New York, USA
Posted on Saturday, June 24, 2023
Instructions for Internal Applicants:
Attention Current Ford Foundation Employees: To submit an application for posted positions, please close this window and log into your Workday account and apply through the Career worklet.
Instructions for Applicants:
Please read the following carefully before beginning the online application process. You have two options.
1. If you are just joining our general Talent Pool, click on Get Started in the Introduce Yourself section and please disregard the instructions for applicants below.
2. To be considered for employment for this specific position/job at Ford Foundation, please complete our online employment application by clicking on the Apply button. Your application and all required attachments must be submitted for each individual job post for which you are interested in applying. If there is an application deadline, please ensure that your application is submitted by the deadline. Once you submit your application you will not be able to edit your application.
Deadline to Apply: July 17th , 2023
SUMMARY DESCRIPTION
The Gender Racial Ethnic Justice-International (GREJ-I) team is hiring a Program Officer (PO) that will have a dual role in managing a global gender-based violence (GBV) portfolio and leading the foundation's efforts to center gender across thematic and regional programs in the US and globally. For the first time in the history of the Ford Foundation we are bringing together these two fields of work because we believe it is essential to work holistically on gender justice to reduce the drivers of GBV and other forms of discrimination women and gender non- conforming individuals experience.
Reporting to the International Program Director for GREJ-I,the PO will be responsible for creating innovative approaches to integrate a gender perspective into grantmaking portfolios across the foundation, organizing learning opportunities and managing a core number of anchor grants that build the infrastructure of actors responding to the anti-rights agenda.
They will also be responsible for
managing a set of GBV grants to organizations and networks at the global level;

leading key strategies;

advancing an influencing agenda to increase the visibility of this field of work;

elevating the voices of grantee partners and mobilizing more and better financing to prevent further violence.
Additionally, the PO will manage external relationships, track needs and opportunities in the gender justice field, and support convenings with grantee, funder and government partnerships. It will be critical for the PO to do this while identifying and fostering intersectional connection particularly with racial justice and disability inclusion.
RESPONSIBILITIES
Gender Based-Violence
Co-lead a global Gender Based Violence grant-making portfolio with program officers working in Nigeria, South Africa, India, Latin America, the US, and those managing existing global partnerships. Assess challenges facing grantee organizations and networks, and ensure that the GREJ-I portfolio helps meet the needs of grantees.

Work with and provide direction to Program Assistants and Grant Managers, as needed, to advance the goals of the program and to ensure timely grant approval, payment and processing of grantee reports.
Centering Gender
Oversee the implementation of a one-time grantmaking initiative of $50 million dollars to contribute to building the global gender justice infrastructure and respond to the increased backlash faced by women. transgender and gender nonconforming people.

Provide technical support to regional and thematic teams to deepen their gender justice grantmaking, integrate a feminist power building analysis in their strategies and identify creative ways to engage across movements and sectors.

Manage, in consultation with others, the grantmaking budget available to respond to the growing anti-rights movement.

Monitor the grantmaking effectively through grantee site visits, reviewing financial and narrative reporting, preparing grant status reports and other key aspects of the grant life cycle.
Leveraging and Thought Leadership
Work to ensure global and regional actors increase funding consistent with feminist principles to advance a global gender justice agenda.

Work with grantees and program officers across the foundation to support advocacy and alliance building to leverage financial resources for feminist and women's rights organizations.

Advance a global gender justice agenda that is deeply rooted in the perspective of communities who have been historically excluded and informed by voices in the global south.

Co-lead the design and implementation of GREJ-I special initiatives that promote innovation around GBV and other strategic issues. This will include Coordinating a global summit on GBV and other convenings to benefit grantee partners and the field.
Program Leadership & Communication
Provide targeted content expertise to foundations and donors interested in centering gender justice analysis in grantmaking who are unaffiliated with existing efforts in the field.

Collaborate with foundation colleagues to promote learning, exchange and strategic partnership.

Provide support to the foundation's Board of Trustees in their ongoing work to deepen their understanding of gender justice in the context of social change.
Internal Learning & Capacity Building
Manage and create strategic learning opportunities to sustain and deepen staff understanding of what it means to embed gender justice analysis and approach across issues.

Focus on building internal capacity towards institutionalization and sustainability of embedding a gender justice analysis within Ford.

Recommend, develop and participate in learning activities to guide the evolution of this work.

Report regularly on the progress of the strategies and recommend strategy adjustments to deepen the impact of the Foundation's social justice change effort.
REQUIREMENTS
A minimum of 8 years' experience leading social justice strategies

Gender, racial and ethnic justice subject-matter expertise and knowledge of how gender justice and feminist perspectives connect with diverse social justice issues

Knowledge of ethnic and racial justice social justice issues

Knowledge of intersectional and feminist theory and analysis in the US and around the world

Deep understanding of organizational change, centering gender and social change theory

Ability to work independently and to collaborate with a broad range of stakeholders in a participatory manner

Ability to balance advocacy and inquiry while remaining curious about ways of being and seeing the multiple perspectives of the world

Exceptional leadership presence - internally and externally

Exceptional communications skills - strong active listening skills, constructive verbal and written skills, strong public presentation skills, including experience in advocacy, communications and leveraging resources for social impact

Demonstrated ability to be a productive member of a community of people at work, respecting differences while working toward shared goals, conform with periods of ambiguity, constructive participation in on-going organizational development
PREFERED QUALIFICATIONS
Experience and knowledge of grantmaking, portfolio management and development of grantmaking strategy.

A track record of donor advocacy including leveraging resources, learning events and knowledge sharing and experience with events planning.

Experience working in a similar advisory role with funders, nonprofits and other stakeholders.

Fluency in a language other than English that is spoken by major racial/ethnic groups in the United States is a plus (e.g. Spanish, Portuguese, Arabic).
PHYSICAL REQUIREMENTS
This position is primarily a sedentary role. However, the person in this position may need to travel overseas at least twice per year and conduct domestic travel in the US. In addition, this position may need to occasionally move about inside the office to liaise with internal staff, access files, office machinery and a copy machine/printer.
SALARY
The Ford Foundation is committed to practicing salary transparency. The minimum salary for this position is $165,000 and the maximum is $185,000.
#LI-Hybrid
Alignment to Culture and Values
Commitment to the Foundation's mission and core values of equity, openness, collaboration, trust, accountability and urgency

Personal qualities of humility, capacity for self-reflection, and a sense of humor

Discretion and ability to handle confidential issues

Action-orientated and entrepreneurial self-starter who can work well independently and in teams
Benefits
Hybrid Workplace and Flexible Work Arrangement policies

Medical and dental benefits for employee and immediate family on first day of work

Retirement savings account with matching company contributions of up to 13%

Three weeks' paid vacation in first year of work; four weeks in subsequent years

Tuition Reimbursement

Office closed the week between Christmas and New Year's Day

Professional development initiatives for growth

Generous parental leave (maternal and paternal) during new child's first year (born into family or adopted)
Equal employment opportunity and having a diverse staff are fundamental principles at The Ford Foundation, where employment and promotional opportunities are based upon individual capabilities and qualifications without regard to race, color, religion, gender, pregnancy, sexual orientation/affectional preference, age, national origin, marital status, citizenship, disability, veteran status or any other protected characteristic as established under law. The Ford Foundation does not discriminate against formerly incarcerated individuals.