Staff UX Designer- Tax Benefits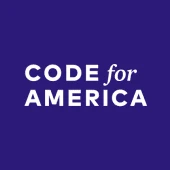 Code for America
Accounting & Finance, Design
San Francisco, CA, USA · United States · Remote
Posted on Friday, April 7, 2023
Code for America reached a voluntary recognition agreement with Code for America Workers United, affiliated with OPEIU (Office Professional Employees International Union, Local 1010), effective on October 22, 2021. We are currently engaged in negotiations towards our first collective bargaining agreement.
Code for America believes government can work for the people, by the people, in the digital age, and that government at all levels can and should work well for all people. For more than a decade, we've worked to show that with the mindful use of technology, we can break down barriers, meet community needs, and find real solutions.
Our employees and active community of volunteers build and transform government and community tools and services, making them so good they inspire change. We merge the best parts of technology, nonprofit, and government to help support the people who need it most. With a focus on diversity, equity, inclusion, and deep empathy for partners in government and community organizations and the people that our partners serve, we're building a movement of motivated change agents driven by meaningful results and lasting impact. At Code for America, you contribute to exciting work while learning and developing in a supportive and flexible environment. Our compensation and benefits are holistic and thoughtfully curated to represent our employees and our mission. Help us drive real generational change that lasts.
Code for America is looking for a talented Staff UX Designer who will help the organization build products and digital services that transform the way government delivers services to communities in need. You'll work with a multidisciplinary team of designers, researchers, engineers, and policy experts to analyze problems, and create simple digital solutions to help low income people file their taxes online, get their refunds quickly, and close the EITC participation gap.
About the Role:
The Design team at Code for America is building a radically better future, starting today. We believe design can create the conditions for generational, systemic change while also delivering immediate material value to communities. We design with, not for, impacted communities, and we believe that good design serves everyone with respect. In this role, you'll be leading a talented design team working towards this vision together. You can read more about our design principles here.
You will report to a Design Manager, and work alongside other designers, and Engineering, Product, Data Science, Qualitative Research, and Client Success departments. You will contribute to team culture, and define best practices for doing design with respect and dignity.
In this position you will:
Improve the end to end user experience across your assigned portfolio.

Identify interaction patterns, standards, and style guides that unify design across Code for America's programs and products.

Partner closely with engineering, product, and program teams to find elegant but practical solutions to design challenges.

Work with researchers to plan and run design research and usability tests to evaluate your designs.

Successfully handle lead responsibilities. Takes the lead on planning, organizing, decision making, and delivery of small or medium size projects within their program or practice area

Be able to communicate both the front-end and back-end service experience

Participate in research planning activities

Facilitate co-design sessions with users and stakeholders

Advocate for design by sharing work and presenting cross functionally, clearly articulating the rationale behind your design decisions.

Engage with clients, government agencies, and community partners to understand your particular landscape and envision new ways of serving those most in need.

Participate in strategy conversations and use insights to guide team's decision making

Work with program and policy folks to understand how policies contribute to service touch points or requirements

Develop relationships with and teach other disciplines about design to foster more effective collaboration

Understand the policies, infrastructure, technology, and system constraints within any given government service.

Understand how/when to use design to push policy

Act as mentor to support the development of junior design staff by supporting design staff in their work by pairing, coaching, and raising the quality bar of all outputs
About you:
You have 6+ years of experience in product, interaction, or user experience.

A portfolio of relevant design work with strong examples of your work, your design process, and your role

Familiarity with common industry design and collaboration tools such as Figma, Sketch, Adobe Creative Suite, Mural, Trello, Github, etc.

Familiarity with agile, iterative software development practices

Experience working with engineers and product managers on design systems/ library related projects

Ability to work collaboratively within a multidisciplinary team

Able to manage multiple high-priority initiatives, including early-stage product strategy as well as delivery of tactical and incremental design improvements

Ability to collaborate and facilitate design discussion in a remote working environment

Experience mentoring designers and communicating the value of design to stakeholders and cross-functional partners.
It's a bonus points if you/have:
Personal experience with or professional experience working within the criminal-legal system, social safety net or other mission-relevant government services.

Experience in civic service design, civic tech, or social impact design in the public sector.

Leadership experience with diversity, equity and inclusion initiatives

Experience with both product development/digital delivery and design agency models

Fluency in one or more languages other than English
What you'll get:
Salary:
Code for America's salary bands are transparent internally as a part of our commitment to diversity, equity, and inclusion. We are happy to extend this transparency during the recruitment process. As a part of our equitable hiring practices, we aim to target the midpoint of the 2nd quartile of the range for all new hires.
The targets for this role are dependent on the market/geographic location. The targets for this role range from ($128,945-$157,850)
Benefits and perks:
Values:

Leadership and teammates who value Equity, Inclusion, and Diversity (DE&I)

A collaborative, cross-functional, hardworking and fun environment

Medical & Retirement:

Full benefits package with 100% coverage towards select medical, dental and vision plans and contributes 80% of the cost towards dependent and family coverage

401k plan with matching funds up to 3%

Professional development:

Bi annual 360 review process alongside compensation reviews

$1000 annual (per calendar year) stipend towards professional development

A manager and org-wide structure that supports and enables professional development

Flexible Time:

Unlimited Paid Time Off policy

Flexible working hours- we aim to hold all internal meetings between 10 AM - 3 PM PT

CfA employees may work remotely across the US

CfA employees may not work remotely outside of the US at anytime during their employment

Employee enablement support:

$200 stipend in first paycheck for remote environment setup

Additional

equipment reimbursement of up to $500 for remote enablement

Cell phone and/or internet reimbursement of up to $50 per month
Equal Employment Opportunity:
Code for America values a diverse, equitable, and inclusive workplace and strongly encourages women, people of color, LGBTQ+ folks, people with disabilities, members of ethnic minorities, foreign-born residents, and veterans to apply. Code for America is an equal opportunity employer. Applicants will not be discriminated against because of race, color, creed, sex, sexual orientation, gender identity or expression, age, religion, national origin, citizenship status, disability, ancestry, marital status, veteran status, medical condition or any protected category prohibited by local, state or federal laws.